Archives by date
You are browsing the site archives by date.
The discussion was called Can Evidence-Based CBT Interventions for Hoarding Be Disseminated to Multidisciplinary Human Service Professionals for Community Implementation?, and the panel included social workers and psychologists. For more on the conference, click here.
Kirstie presented some of her preliminary findings from her dissertation research and Sheila presented two studies on Hoarding and the Psychology of Ownership. For more on the conference, click here.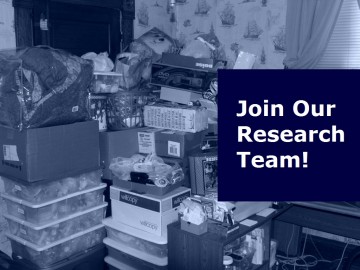 The Centre for Collaborative Research on Hoarding is seeking interested post-doctoral applicants to join our research team.
This article from the Boston Globe covers the inspirational work of Jesse Edsell-Vetter and his team at Metropolitan Boston Housing Partnership. Click here to read.
The CBC's Sunday Edition featured an segment by Karen Wells that profiled a family in Chilliwack with hoarding issues. Click here to view and listen.
This interview with Sheila gives a great overview of the current state of research on hoarding, as well as some advice on helping loved ones with hoarding. Click here to view.
The CBC program BC Almanac recently aired Sheila's Q & A with callers about their own hoarding concerns. The interview starts at 27:50, click here to listen.
In an interview with CBC news, Sheila points out the problems that excessive clutter presents and the need for more resources and research to address these problems. Click here to view
This article discusses our lab's recent research on the prevalence of hoarding in Single Room Occupancies (SROs) in Vancouver. Click here to view.